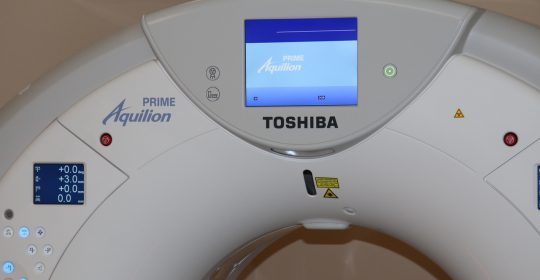 On September 22nd we had the honor of hosting The Big Bear Chamber of Commerce Mixer, which ended up being perfect timing as we received confirmation that our new CT machine was approved for use! BVCHD has been working hard to upgrade machines around the facility. Most recently we were able to upgrade our mammography machine to a 3D state of the art Genius. And now we are honored to unveil our new Toshiba Aquilion CT.
Aquilion ONETM / GENESIS Edition goes beyond the evolution of dynamic volume CT. Intensive clinically focused research and innovative technological developments have culminated in a CT system with industry-leading spatial resolution and reduced radiation dose requirements. GENESIS Edition maximizes the patient experience during CT examinations, and through intelligent examination protocols, provides excellent image quality with low radiation and contrast dose tailored to each and every patient.
To schedule an appointment or for more information please contact our Radiology Department at 909-878-8204.
Leave a reply →